Seven killed after Gaza border protests
Comments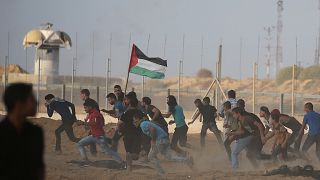 Israeli forces shot dead a group of Palestinians during protests along the Gaza border, killing seven.
The Israeli military said it opened fire on crowds who breached the border fence and approached an army post.
No Israeli troops were harmed, but at least 140 Palestinians were wounded by live bullets in one of the deadliest days in months.
The Israeli military estimated that as many as 15,000 Palestinians gathered on Gaza's border with Israel, burning tyres and throwing rocks, firebombs, and grenades at soldiers. 
Hamas, the de facto governing authority in the Gaza strip, has orchestrated near-weekly protests along the border, pressing for an end to a stifling Israeli-Egyptian blockade.
Two hundred Palestinians have been killed since the protests began in March, according to the Palestinian Health Ministry.