Meet Sara and Doss: two artists boosting the street dance scene in Kuwait
Comments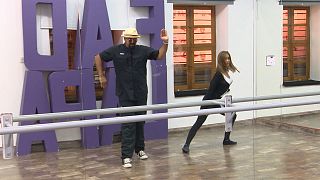 After quitting dance school in New York due to an injury, Sara Al Homood came back to her hometown of Kuwait only to discover an emerging dance scene.
"Here you get more hip-hop styles, street dance styles, social dance styles," says Sara, "I was pleasantly surprised with that. For example, I'd actually never done social dancing in my life like salsa until I came here."
Instagram popping star Doss Al-Eidani, also a native to Kuwait City, has been helping to inspire local dancers.
"Social media played a big part in this actually," he says, "Instagram opened a lot of people's eyes to dancing and a lot of talent. The art in general in Kuwait popped up and everyone wants to see what's happening."
Apart from being a social media icon, the artist also works for the charity Loyac, using dance to motivate young people.
Both Sara and Doss want to spread the word about dance as an art form, making it more socially acceptable.
One of the ways they're doing so is by mixing local elements into internationally-known dance styles.
"Kuwaitis, at first they didn't like it that much," says Doss, "But after fusing the style with Arabic signatures and Kuwaiti dance moves, they liked it after that."
The opening of the Sheikh Jaber Al Ahmad Cultural Centre two years ago is also a key factor in bring dance centre-stage in the country, according to Sara.
"I think it's making art a lot more accessible to the Kuwaiti public, especially the youth which I think is very important," she says, "They could highlight some sort of dance on the stage. I think that would help a lot in the future."
Sara, as other local artists, has taken the academic route and is majoring in economics and finance for now. She hopes, however, to return to her former passion one day and set up her own dance studio.
KUWAITI DANCERS SHARE THEIR LOVE FOR ART
Mae from Kuwait shared with her followers her new-found dancing skills which she proudly learned from Youtube tutorials.