Media companies pulling out of Saudi conference after Khashoggi's disappearance
Comments
By Dylan Byers with NBC News U.S. News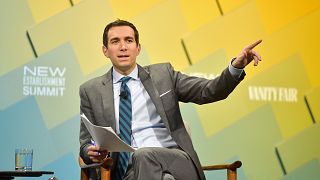 Copyright

Matt Winkelmeyer Getty Images

-
Several journalists and media organizations are starting to pull out of a high-profile conference in Saudi Arabia following the disappearance of Jamal Khashoggi, the Saudi journalist who has been missing since Oct. 2.
The U.S. media's involvement in the annual Future Investment Initiative has come under scrutiny amid reports that Khashoggi, a longtime critic of the Saudi royal family, was killed inside the Saudi consulate in Istanbul by a squad of Saudi Arabian officials.
"I'm terribly distressed by the disappearance of journalist Jamal Khashoggi and reports of his murder," Andrew Ross Sorkin, the New York Times columnist and CNBC anchor, tweeted Thursday morning. "I will no longer be participating in the Future Investment Initiative in Riyadh."
Patrick Soon-Shiong, the publisher of The Los Angeles Times, has also decided to skip the event, while the New York Times says it will no longer serve as a media sponsor.
Others have yet to confirm their plans for the event: A Fox Business spokesperson told NBC News that the matter was "under review" by the network and its anchor Maria Bartiromo, who is slated to appear.
A spokesperson for CNN did not immediately respond to a request for comment regarding the network's position on the matter, or whether its anchors Becky Anderson and John Defterios still plan to participate.
Justin Smith, the CEO of Bloomberg Media Group, is also scheduled to attend, as are Bloomberg anchors Francine Lacqua and Erik Schatzker. A Bloomberg spokesperson said they are monitoring the situation.
A CNBC spokesperson said Thursday they are "monitoring the situation."
Economist editor Zanny Minton Beddoes announced he would no longer participate.
The Future Investment Initiative, which is now in its second year, brings together notable business leaders, investors, celebrities and members of the media. It is financed by the Saudi royal family and scheduled to take place Oct. 23-25 in Riyadh.
In addition to the media personalities, this year's listed speakers include Softbank CEO Masayoshi Son, JPMorgan Chase CEO Jamie Dimon, Colony Capital Executive Chairman Thomas Barrack and Liontree CEO Aryeh Bourkoff.
Steve Case, the AOL co-founder who now serves as chairman of Revolution, also announced he was pulling out.
"In light of recent events, I have decided to put my plans on hold, pending further information regarding Jamal Khashoggi," he tweeted.
Richard Branson, the founder of Virgin Group, was not scheduled to attend the summit but announced Thursday that he would suspend his directorships of two tourism projects backed by Saudi Crown Prince Mohammed bin Salman.
"What has reportedly happened in Turkey around the disappearance of journalist Jamal Khashoggi, if proved true, would clearly change the ability of any of us in the West to do business with the Saudi Government," Branson said in a statement. "We have asked for more information from the authorities in Saudi and to clarify their position in relation to Mr Khashoggi."
Ernest Moniz, the former energy secretary for President Barack Obama, has also suspended his involvement advising Saudi Arabia on a mega-city project there. On Thursday afternoon, Turkey said it had agreed to a request by Saudi Arabia to form a joint committee to investigate Khashoggi's disappearance.