How is Dead Sea mud helping treat diseases in Jordan?
Comments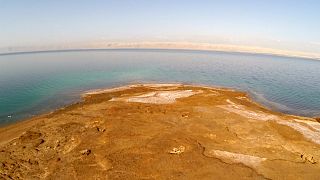 Some doctors in Jordan are using ancient medical practices and natural ingredients from the Dead Sea to treat their patients.
The Dead Sea's mineral-rich and vitamin-packed seawater has been used to try to cure illnesses for more than 2,000 years. It is also thought that Egyptian queen Cleopatra traveled to these shores to build one of the world's first clinics.
Dr. Zuhair Bisharat, founder of the Dead Sea Medical Clinic, explains that the Dead Sea's unique properties help the body's healing process.
"All the salts in the Dead Sea water are also in the mud," he says. "We use them to treat skin diseases such as psoriasis, psoriasis arthritis, vitiligo and joint disorders."
Mud from the Dead Sea is believed to treat a variety of health conditions
Dr. Hans Gohchimramm suffers from psoriasis and arthritis and visits the clinic in Jordan yearly to rejuvenate his skin.
"In Germany, I've got a lot of pills, creams and other things - no drugs can help me," he says. "Since I've had the treatments here at the Dead Sea, the skin and the joint disease have gone away for up to one and a half years."
According to the consultancy firm Grand Review Research, two-thirds of the world's population are currently using alternative therapies.
It is reported that natural and alternative medicine has been growing in popularity over the last decade, in particular, and its market is expected to generate global revenues of US$197 billion by 2025.
HERBS AND SPICES ARE ALSO PART OF LOCAL MEDICINE
Mohammad Herzalla learned the ancient art of apothecary from past generations of his family, and he has prescribed traditional medicine for the past 25 years from a spice shop in downtown Amman.
Visitors to his store seek out his natural concoctions and treatments for common illnesses and chronic diseases.
"I mix different herbs together for different types of ailments," he says, "For colds, flu and stomach aches, we create some of our own mixes to produce creams, free of any cortisone or chemicals."
Some spice shops in Amman provide natural medicine treatments
Mohammad's prescriptions are based on the remedies of ancient Islamic scholars.
From the 8th to the 13th century, Arabic medicine was the most advanced in the world, with practitioners experimenting with different herbs and spices. By the 10th century, pharmacies were a staple in the major towns. Leading cities also had 24-hour hospitals, where patients were seen for free.
Back then, hospitals had herb gardens from which ingredients could be picked and ointments for patients prepared.
As merchants travelled along the Silk Road, more exotic plants were brought back from abroad, allowing new medicines to be developed.
"Wild thyme has the ability to expand the respiratory tract and decrease the symptoms of asthma," says Sameh Khatabeh, a Field Researcher at Jordan's Royal Society for the Conservation of Nature. "Another use is to decrease abdominal pain."
PUSHING FOR A MODERNISATION OF MEDICAL TREATMENT
With respect to Jordan's deep and historical roots in natural medicine, some in its major cities are pushing for the technological advancement and faster modernization of the healthcare industry.
Dr. Abdelaziz Allabadi, who published the first Arabic medical dictionary, teamed up with his son Jalil to launch the Middle East and North Africa's first and largest digital health platform, Altibii.
The Allabadis' digital health platform, a modern tool for healthcare
"We believe the Arab world is still catching up with the Western world, which started very early on in adopting technologies in healthcare, and introducing health portals and health information," says Dr. Allabadi. "The growth is much faster in this region, because we don't have the proper infrastructure and this gives us opportunities."