Eurostar services could stop in 'no-deal' Brexit scenario
Comments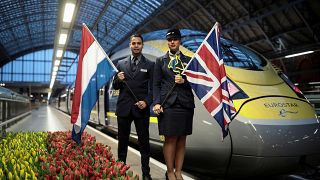 The UK government has warned that if no bilateral deals are made with the EU, Eurostar trains could stop running between the UK and the continent.
The government released its latest note on the consequences of a Brexit no-deal on rail transport, consumer rights, copyright, and free trade. It said the government would have to negotiate new arrangements with individual countries to allow trains to continue heading to the continent as some UK and EU train operators' licences would become invalid after a hard Brexit.
The UK has said it would recognise EU-issued licences for up to two years, after which operators would have to apply to the UK regulator for a new licence.
Brexit Secretary Dominic Raab has said he is confident Britain would be able to negotiate such agreements with the likes of France, Belgium, and the Netherlands.
Eurostar said: "We are having constructive conversations with the governments on Brexit and will continue to do so. At this point in time, we plan and expect to maintain services on the existing basis and timetable following Brexit."
Meanwhile, passengers were also warned that they will be responsible for ensuring their tickets are "sufficient to cover possible disruption".
That would mean passengers could be tempted to buy more expensive tickets which offer amendable fares rather than the cheaper fixed price tickets. 
The papers also revealed UK citizens could be barred from accessing online entertainment services such as Netflix and Spotify while travelling to the continent.