Spanish politicians edge closer to increasing minimum wage
Comments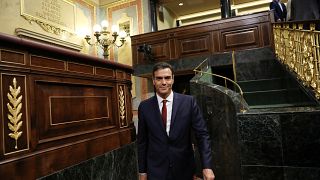 Spain's government — which has a minority in parliament — and anti-austerity party Podemos have agreed to increase the minimum wage to €900 a month, an important step for passing the 2019 budget.
The current minimum wage is €735.90/month.
The minimum salary in Spain has been continuously growing for the past ten years with the last raise up 4% between 2017 and 2018, according to the country's ministry of labour website.
The ministry says the minimum wage must be the same for every worker regardless of industry, sex or age. Since 1982, the council of ministers is the body that fixes the minimum wage for the following financial year at its final annual meeting.
The proposed budget deal also includes tax hikes and a reform of the rental market.
The Spanish Socialist Workers' Party budget proposal for 2019 now only needs the support of small regional parties to get the green light.
Sanchez' party currently has 84 seats in the 350-seat parliament and with the backing of Podemos it brings it up to 151 votes. They will need to engage in talks with regional parties from Catalonia and the Basque Country to reach the necessary majority.
Opposition parties People's Party (PP) and Ciudadanos — which hold 166 seats in parliament — said they would boycott the budget proposal.
How does Spain's minimum wage compare to other European countries?
To explain the difference between Eurostat's data and Spain's ministry of labour, Eurostat told Euronews the following:
In Spain, minimum wage is set annually by the government after consultation with the social partners, taking into account the consumer price index, the average national productivity rate, the share of the work in the National income and the economic situation.
Eurostat provides national minimum wages at monthly rates. For the countries where the national minimum wage is not fixed at a monthly rate, its hourly or weekly rate is converted into a monthly rate according to conversion factors supplied by the countries (e.g. (hourly rate x 40 hours x 52 weeks) / 12 months).
In addition, when the minimum wage is paid for more than 12 months per year, data have been adjusted to take these payments into account (e.g. for the countries where it is paid for 14 months a year, the minimum wage is calculated as follows: (monthly rate x 14) / 12)).