Residents trapped in the eye of Hurricane Michael share experiences on social media | #TheCube
Comments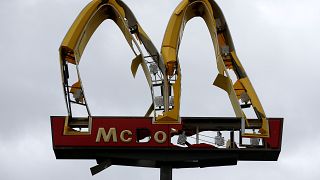 Copyright

Reuters/Jonathan Bachman
Hurricane Michael made landfall over Florida's Panhandle overnight on Wednesday, leaving scenes of devastation in its wake.
Many residents who were unable to evacuate ahead of the storm shared their experiences on social media and documented much of the destruction surrounding their homes. The following Facebook user from Carrabelle, Florida, posted these photos showing the hurricane-damaged highway along the Carrabelle seafront.
By using the undamaged placemarkers in the photos, we were able to pinpoint the exact location on Google Maps, which highlights the stark contrast between the intact roads before the hurricane made landfall, and, after, when the road was completely caved, split and flooded with seawater.
Despite authorities ordering mandatory evacuations ahead of the storm, many people were unable to leave their homes.
Carrabelle resident Michael Wilkes pointed out that many people didn't necessarily want to stay, but that "they have no money to do so".
"That's their only place to stay," he wrote.
Wilkes wrote another post several hours later to say he managed to escape with his family, but with only $100 to his name.
"We now are broke and can't get into Eastpoint. To our home. Only thing we have...Most people don't have money to blow and spend. That's why we stay. To hope for the best and ride it out."
Another Facebook user in Apalachicola, Florida, said he tried to drive around to check the damage, but could only travel a few blocks from his house.
"Roads are not passable and I strongly advise you to all stay put," he warned his Facebook friends in the same area. "The risk of electrocution is high also as there are lines down everywhere! I cannot get to anyone's house to check it for them at this time...This is the worst hurricane Apalachicola has seen I think."
Fake content disrupts the online conversation
While social media was used throughout the storm for locals to keep loved ones updated on their safety and whereabouts, and to find out what was left of their homes, there were also some instances of fake content being shared, which disrupted the online conversation.
For example, this Facebook user shared a photo showing planes submerged in water. He captioned the photo: "Northwest Florida Beaches International Airport - Panama City Beach, FL."
But this isn't a photo from Northwest Florida Beaches International Airport in October 2018. In fact, it isn't a real photo at all.
The image, which is often shared when hurricanes hit the US, is actually a photoshopped image taken from a climate change website. It shows a prediction of what New York's LaGuardia airport could look like should sea levels rise.
Lots of savvy social media users pointed out the image was fake, but many are still unaware. At the time of writing, this post has been shared almost 20,000 times and has received 1,000 reactions.
Angry commenters called for the user to remove the post, saying it spreads unnecessary fear in an already fearful time for residents.
One person left a comment saying she thought she wouldn't be able to fly to Florida to help her family there after seeing the photo, but eventually realised the image was fake.
"This is not a joke, especially in a time such as this," she wrote.
#TheCube is a newsdesk run by a team of Euronews journalists specialising in social discovery and verification. They comb through social media to find, verify, and debunk stories, in real-time, for our audiences on-air and online.