Madrid bans scooters on pavements but riders still face wrath of drivers and pedestrians
Comments
By Ana Martínez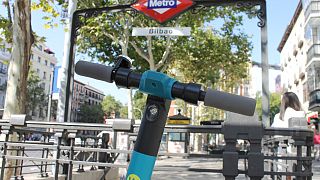 -
Autumn has arrived in Madrid, bringing the first rains of the season and dying the streets with orange and grey mud. With the downpours, the cars return and the traffic jams. But this year another ingredient has become prominent: electric scooters, the latest trend in urban mobility vehicles, can be found in nearly every corner of the capital's centre.
Even in the wet weather, crowds of commuters are brave enough to use them on their journey to work.
"I have to admit that, at the beginning, I was a bit scared, but after a couple of days you get used to it," says María Luengo, who bought an electric scooter four months ago. She has used it every day to go to work since then. "It is a very economical and clean way to move around the city. It also has several advantages over a bicycle, mainly its size. For example, you can fold it when riding on public transport, " she told Euronews.
Many people use electric scooters to complement the use of other forms of transport. Álvaro Salvat, General Manager at Lime Spain appoints that "40% of Lime users use the scooters to connect with public transport". 
The Californian startup was the first such service to land in Madrid in August and its scooters have already been used over 100,000 times since then. Lime's arrival triggered a debate on the regulation of the circulation of personal mobility electric vehicles –scooters, Segways and unicycles – that had been brewing for some time. 
The controversy was settled by Madrid City Council's approval of a new urban mobility law on October 5. The new legislation allows electric scooters to circulate on the roads where the maximum speed is equal to or less than 30 kilometres per hour, banning them from the sidewalk.
Following the passing of this regulation, several scooter-sharing companies expect to launch their services in Madrid. 
"There are around 5,000 private electric scooters in Madrid nowadays, and around 1,000 ones for scooter-sharing rental. But, as soon as the regulation is published on the Official Bulletin of the Community of Madrid, this number will significantly grow," explains Juan Jiménez, President of the Association of Users of Personal Mobility Vehicles. He estimates that there are eight start-ups hoping to establish their businesses in Madrid in the coming weeks.
"Lime has kind of been like an older brother who is making way for the little ones. They decided to launch their services without waiting for the regulation", says Juan, who is also cofounder of Eskay. This Spanish startup offers "higher quality and much safer" premium electric scooters. Eskay had 125 scooters deployed during 3 months as a test in Madrid, and expects to launch officially immediately, now that the regulation has been approved.
On the other hand, and in spite of the legislative developments, many drivers and pedestrians complain about the danger that electric scooters pose.
"The other day I was about to bump into an electric scooter that was going in the opposite direction along the Corredera Alta de San Pablo Street, in the heart of Madrid", says Aitor Durana. "I thought he was watching where he was going, but by the time I warned him, he was almost on top of me!"
Luis Gutiérrez complains that some scooters are left in places where they obstruct the sidewalk and he appeals to users to "think of people with reduced mobility, for whom a scooter on the sidewalk is an obstacle."
Scooter users also criticise the hostile attitude that fellow street users display towards them.
 "When I bought the scooter, people saw it as something fun, they asked me about how it works and whether they could try it. Today, only four months later, the attitude is completely different. Many pedestrians and drivers deliberately try to block the road when I pass by," explains María. 
She also argues that scooters aren't to blame, since "any vehicle used inappropriately can pose a danger to pedestrians".