Euronews visits Lampedusa — the island at the heart of Europe's migration crisis
Comments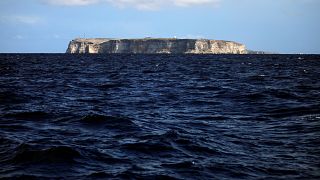 Italian Interior Minister Matteo Salvini is rising in the polls at home.
A recent survey showed his party, the Northern League, has an approval rating of over 30% among Italian voters.
Meanwhile, both Salvini and the "Lega" have whipped up anti-migrant sentiment since entering power earlier this year in coalition with the Five Star Movement party.
Salvini has also openly resisted attempts by ships, carrying migrants pulled from sinking boats off the Libyan coast, to dock in his country.
"Go wherever you want, but not to Italy", he tweeted in September as a rescue vessel carrying migrants from Pakistan and the Ivory Coast was forced to float in the Mediterranean as it sought a place to port.
Euronews' correspondent Anelise Borges was a passenger on that very ship, called 'Aquarius 2', in June.
To understand what draws people to the Northern League, she travelled to Lampedusa — the island at the forefront of Italy's migration crisis — and sent us this report. Watch it in the video player above.