Erdogan says Saudi officials must prove Khashoggi left consulate
Comments
By Associated Press with NBC News World News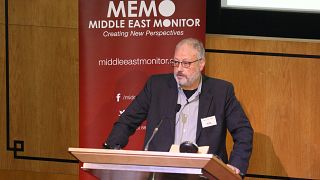 BUDAPEST (Reuters) - Saudi Arabian officials must prove that journalist Jamal Khashoggi, who has been missing since last week, had left the Istanbul consulate, Turkish President Tayyip Erdogan said on Monday.
"We have to get an outcome from this investigation as soon as possible. The consulate officials cannot save themselves by simply saying 'he has left'," Erdogan told a news conference in Budapest.
Turkish officials told Reuters over the weekend that they believed Khashoggi had been killed inside the Saudi consulate in Istanbul.
Erdogan, who said he was personally following the case, added that Turkey had no documents or evidence at hand regarding the case.
(Reporting by Tuvan Gumrukcu and Ece Toksabay; Writing by Ali Kucukgocmen)