Brett Kavanaugh is sworn in to US supreme court
Comments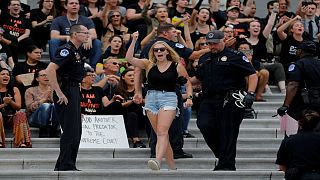 It was US Vice President Mike Pence who announced the result:  "On this vote, the Ayes are 50, the Nays are 48. The nomination of Brett M. Kavanaugh of Maryland to be an associate justice of the Supreme Court of the United States is confirmed."
It was the moment that ended weeks of controversy, the US Senate confirming President Donald Trump's nominee for the Supreme Court - Brett Kavanaugh.
The vote came after Kavanaugh had been forced to fend off allegations of sexual assault.
Donald Trump was quick to offer praise, tweeting:  "I applaud and congratulate the US Senate for confirming our GREAT NOMINEE. Later today, I will sign his Commission of Appointment, and he will be officially sworn in. Very exciting!"
And Senator Mitch McConnell said it was more than just a victory for Kavanaugh himself.
"This is a a good day for America and an important day for the Senate. We stood up for the presumption of innocence.
In the final minutes before the vote, Democrat Chuck Schumer acknowledged the depth of feeling about Kavanaugh's nomination.
"I share the deep anguish that millions of Americans are experiencing today. But I say to you my fellow Americans: There is one answer: Vote."
The appointment will be for life but the politics surrounding it are far from over. With next month's crucial mid-term elections on the horizon, analysts will be looking to see whether it influences the vote.