Palu: Dramatic footage of Tsunami
Comments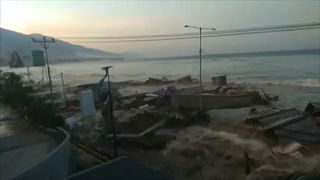 Dramatic footage of the tsunami which slammed into Palu in Indonesia was captured on a mobile phone.
It was first shared on Facebook as four friends ran towards an elevated section of the Palu Grand Mall along the seafront.
Hendri Dwi Selamet, who took the video, says he filmed a wave hitting the shoreline after one had already swept over the roads and buildings.
Unfortunately, he also says he lost sight of two of his friends as disaster struck.
He went back to see if he could find them but he only found one.