Getting aid to Indonesia's tsunami survivors slowed by destruction
Comments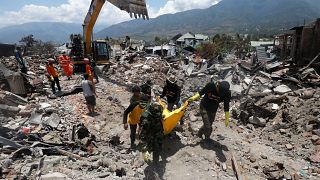 Aid is now being flown into the damaged airport on Sulawesi, the problem is distributing it to survivors of the tsunami.
Twenty five countries are flying supplies in, but only two or three flights are able to land each day.
Rural communities have been cut off by broken roads, landslides and crippled communications, leaving people increasingly desperate for basic needs as aid has only just begun to trickle through.
Indonesia's deputy foreign minister said on Saturday the most important items were aircraft, generators, tents, water treatment and field medical facilities.
Indonesia has traditionally been reluctant to be seen as relying on outside help to cope with disasters, and the government shunned foreign aid this year when earthquakes struck the island of Lombok.
But it has accepted help from abroad for the disaster in Sulawesi.
Meanwhile the grim search for dead bodies continues. In the island's capital Palu heavy machinery is sifting through the debris.
In the Balaroa neighbourhood, rescuers found 34 bodies on Saturday, and laid them out in a row of blue and orange bags
Hundreds more people are believed to be entombed in slowly drying mud that enveloped communities in the south of the city.
The 7.5 magnitude quake triggered a process called soil liquefaction that turned the ground into a quagmire.
Indonesian President Joko Widodo has said all of the victims must be found, and the search is expected to take months.
The official death toll from the quake and the tsunami it triggered has risen to 1,649, but will certainly increase.
Most of the dead have been found in Palu. Figures for more remote areas, some just re-connected to the outside world by road, are trickling in.