Joschka Fischer: a Europe in decline needs its own military
Comments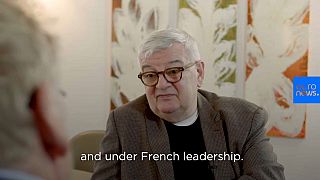 Former German Vice Chancellor and Foreign Minister Joschka Fischer has told Euronews Europe will need its own military force, under German and French leadership, if it is to confront its present-day geo-political reality.
Fischer, a Green party leader who was Chancellor Gerhard Schroeder's deputy and Foreign Minister from 1998 to 2005, was speaking to Daniel Cohn-Bendit as part of Euronews' Uncut series of interviews. Both are staunch European federalists and members of the Spinelli Group (of which Cohn-Bendit is co-chair), a European parliamentarian group that seeks to promote the increased federalisation of the EU.
Fischer says there can be no centralised European military force without Germany, adding:
"But we will have to establish one. Just look at our geo-political situation: Russia in the East, Turkey in the South-east, the Near- and Middle-east, North Africa, the African continent. Compare this neighbourhood with the neighbourhood of the USA, then you will see the difference. Europe will no longer be able to rely just on the USA without developing its own weight. And this is only possible with Germany and France, and under French leadership."
Europe in decline in crucial areas
Fischer goes on to say that unless Europe acts, it is in danger of slipping further into a decline that he believes has already begun in key areas:
"If I were Foreign Minister, I would move heaven and hell to go towards France and to bring Europe up to speed. That is the most important thing. We are experiencing the development of a new world order with a focus on East Asia/Pacific. The transatlantic dimension will decrease. In Europe, all megatrends, all global trends: technology, demographics, everything, power distribution, are showing our decline.
"We are in real danger of being lost. We still have exactly one chance, not one more. And that is why for me Europe is the central key question. The be-all and end-all. That would be the absolute."
You can see the full conversation between Cohn-Bendit and Fischer from Friday, October 5 at 22:25 on Euronews and euronews.com.