Watch: PM May's key bites as she sticks to her guns on Brexit
Comments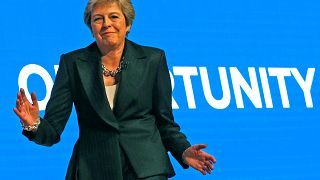 The song remains the same. British Prime Minister Theresa May intends to keep on course for the UK leaving the EU in March of next year, and she used her party conference address to reiterate the message.
"My job as prime minister is to do what I believe to be in the national interest and that means... honouring the result of the referendum."
After a torrid time in Salzburg, May has faced domestic rejection of her Chequers plan. But in Birmingham today she sent a message to the EU negotiators. "Britain isn't afraid to leave with no deal if we have to," she said.
She referred to the idea of not honouring the result of June 2016 as a "betrayal" and furthermore stated her total opposition to any division within the make-up of the United Kingdom.
"We will never break up our country."
There has been a lot of talk about a second EU referendum in recent weeks, the spectacle of which has gained momentum under a campaign known as "People's Vote".
But May denied its credibility. "A second referendum would be a politicians' vote. Politicians telling people they got it wrong the first time and should try again. Think for a moment what it would do to faith in our democracy if – having asked the people of this country to take this decision – politicians tried to overturn it. Those of us who do respect the result – whichever side of the question we stood on two years ago – need to come together now."
She attempted to combat fears regarding the single market, and the UK losing economically through its absence from it, by projecting a global attitude, and cited examples of how non-EU nations are waiting to interact with the British.
"There's a whole world out there, let's lift our horizons to meet it," she said.
On top of her comedy entrance and the odd quip, May also used humour to highlight her core Tory principle of supporting entrepreneurship and send a positive message to businesses.
"There is a four-letter word to describe what we conservatives want to do to you. It has a single syllable. It is of Anglo-Saxon derivation. It ends in the letter 'K'," she teased.
The word was of course, not coarse. "BACK businesses" came the cry.