Tensions rise as large protests mark Catalonia referendum anniversary
Comments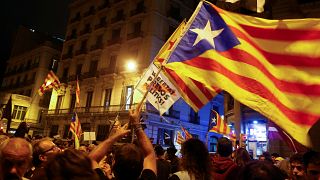 Copyright

REUTERS/Enrique Calvo
Tens of thousands of Catalan independence protesters have marked the first anniversary of a controversial referendum on a split from Spain.
Riot police charged in to break up demonstrators in front of Catalonia's regional parliament on Monday night (Oct 1).
A march attracted many people who haven't given up hopes of independence.
During the day there had been attempts to block roads and train tracks hanging ballot boxes and chanting the regional anthem.
"The goal was independence, but if it is not achieved in the near future, we have to keep fighting to achieve it. Or at least achieve a binding referendum that we can vote on, and that the results are respected," said Jaume Murciano, pro-independence demonstrator:
Madrid imposed direct rule on Catalonia after it declared independence following the referendum, Elections later returned a regional government favouring a split with Spain. through a party supporting union won most votes.
Polls today show a relatively even split between those who favour remaining in Spain and those wanting to secede. Prime Minister Pedro Sanchez has said he favours dialogue on the region's future but has ruled out any moved towards independence.