'Nightmarish' scale of Indonesian quake disaster emerges as rescuers fan out
Comments
By Reuters with NBC News World News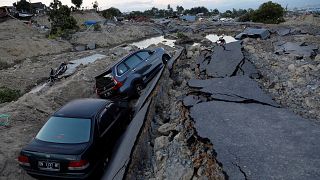 -
PALU, Indonesia — The extent of the devastation caused by an earthquake and tsunami on the Indonesian island of Sulawesi should become clearer on Tuesday, as rescuers push into remote areas that have been out of contact for more than three days.
Officials fear the death toll will rise into the thousands. Indonesia has said it would accept offers of international aid, having shunned outside help earlier this year when an earthquake struck the island of Lombok.
By Monday, the number of confirmed deaths stood at 844, most of them in Palu, the main city in the disaster zone.
With communications down and access by land disrupted, rescuers were struggling to reach communities closer to the epicenter of the 7.5 magnitude earthquake that struck on Friday, triggering tsunami waves as high as six meters (20 feet).
A particular horror in several areas was liquefaction, which happens when soil shaken by an earthquake behaves like a liquid.
About 1,700 houses in one Palu neighborhood were swallowed up, with hundreds of people believed buried, the national disaster agency said.
There was also mounting concern over Donggala, a region of 300,000 people north of Palu and close to the epicenter, and two other districts — with a combined population of about 1.4 million.
Initial reports from Red Cross rescuers who had reached the outskirts of Donggala district were chilling.
"The situation in the affected areas is nightmarish," Jan Gelfand, head of an the International Federation of Red Cross and Red Crescent Societies (IFRC) office in Jakarta said in a statement.
"The city of Palu has been devastated and first reports out of Donggala indicate that it has also been hit extremely hard by the double disaster," Gelfand said.
So far, nearly 60,000 people have been displaced and are in need of emergency help, while thousands have been streaming out of the stricken areas.Chief security minister Wiranto said on Monday the government was trying to meet survivors' immediate needs and would accept offers of international help.
"Right now, we need emergency aid," Wiranto said, referring to the foreign aid that would be airlifted to Palu, 1,500 km (930 miles) northeast of Jakarta.
Commercial airlines have struggled to restore operations at Palu's quake-damaged airport, but military aircraft took survivors out on Monday.About 3,000 people thronged the airport hoping to get on any flight and officers struggled to keep order.
Wiranto said a navy vessel capable of taking 1,000 people at a time would also be deployed to help with the evacuation.He said the power utility was also working to restore electricity: "Without energy, everything is crippled."
Anger and desperation among traumatized residents of Palu appeared to be simmering, with some outbreaks of looting.
"Stop hiding Mr Mayor," was daubed on a wall in one part of Palu. Mayor Hidayat was unavailable for comment.
Numerous aftershocks have strained survivors already jangled nerves."I feel like the ground is still shifting. I can't sleep," said resident Siti Sarifah, 26.