Women aren't discriminated against - it's men, says professor
Comments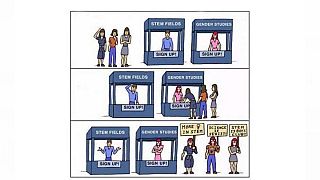 CERN, the European Organisation for Nuclear Research based in Geneva, has publicly apologised for a researcher's report.
Professor Alessandro Strumia of Pisa University, said physics was "invented and built by men, it's not by invitation". He made the claim during a seminar on gender issues on the final day of the conference which was attended by 90 scientists, mostly female physicists. He added that it would be men - for ideological reasons – who were discriminated against.
He went on to say: "Curie and others were accepted after showing what they were able to do: get Nobels."
British physicist Jess Wade, one of the speakers at the seminar, expressed her disappointment on Twitter.
CERN apologised Sunday evening (30 Sept) in a statement posted on their official website and Strumia has since been suspended pending an investigation.
"CERN considers the presentation to be highly offensive," the statement reads. "The organisers of the workshop were not aware of the content of the presentation. CERN is a culturally diverse organisation bringing together people of many different nationalities. It is a place where everyone is welcome, and all have the same opportunities, regardless of ethnicity, beliefs, gender or sexual orientation".
It goes on to say that the organisation "is fully committed to promoting diversity and equality at all levels."