Raw Politics: Is the EU like a Soviet prison? What now for Macedonia? And how much CO2 will EU cut?
Comments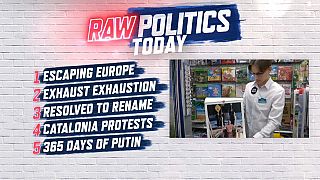 On the Raw Politics menu this October 1:
Resolved to rename - Macedonia's prime minister vows to join NATO and the EU despite a referendum setback.
Escaping Europe - the UK's foreign secretary compares Brussels to a Soviet prison over Brexit.
Exhaust exhaustion - Europe takes aim at C02 emissions...and Germany's auto industry.
Catalonia protests - anger on the streets of Barcelona one year after the independence referendum.
And 365 days of Putin - the Russian leader stars in his own calendar.