I won't change, says Macron after Le Pen blasts 'obscene gesture' photo
Comments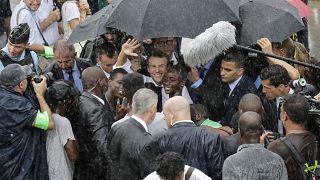 -
Copyright

Thomas Samson/Pool via REUTERS
Emmanuel Macron has defended himself in the face of criticism from right wing politicians after a photo featuring the French president alongside a youth making an obscene gesture was widely shared on social media.
The photo was taken on Saturday during a visit to the island of Saint Martin, a year after hurricanes devastated the French Caribbean. Macron is pictured smiling as he poses between two young men, one of whom to his right is making the one-fingered gesture. The other is a former armed robber.
Marine Le Pen of the National Rally – formerly the National Front – tweeted to say "we no longer find words to express our indignation. France certainly does not deserve that. It's unforgivable!"
Other far-right figures joined in to condemn Macron's "vulgarity" and "desperate publicity stunts". Some from the centre-right Republicans party accused him of demeaning the presidential function.
The photo was taken on a visit to a run-down housing estate during which the president reportedly pulled away from security staff to have closer contact with residents. He is said to have met the two young men in a flat on the second floor.
Questioned on the matter during a news conference on Sunday after the photo had spread like wildfire on the internet, Emmanuel Macron said he loved "every child of the Republic, however foolish they've been".
He said that after the photo was taken, the two young men had brought over a handicapped girl who wanted to greet him. A video broadcast on BFM TV shows Macron telling the self-confessed offender, in front of his mother, that he must put the robberies behind him and rebuild his life.
"Marine Le Pen is the far right, and the far fight is not the people. I am president of the Republic and I will leave the people to no-one," Macron said, vowing to continue close contact with the public.
The president was fulfilling a pledge to return to Saint Martin a year after his first trip in the immediate aftermath of Hurricane Irma. He walked for five hours on Saturday, sometimes in the rain, speaking to local people about the impact of the deadly storm.
However, at home Macron has lost popularity and has been increasingly criticised for being out of touch, seen as representing only the rich in society. In September he caused controversy after telling an unemployed horticulturist he should seek work in the restaurant industry where jobs were plentiful.