Boris Johnson calls May's Chequers plan 'deranged' ahead of Conservative conference
Comments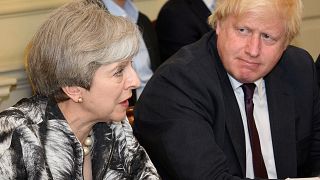 British Prime Minister Theresa May is bracing for a bruising week as her Conservative Party meets for its annual conference with the focus on how Britain will leave the European Union in less than six months time.
Ex-Foreign Secretary Boris Johnson overshadowed the conservative gathering by calling May's Brexit plan "deranged" and "entirely preposterous."
"Unlike the prime minister, I campaigned for Brexit," the former foreign secretary says.
Speaking with the Sunday Times, Johnson said: "The idea that we could ask customs officers in Dubrovnik and Santander to charge British-only tariffs is deranged, and nobody thinks it can work." Johnson also criticized May's management of the Irish border during her negotiations with Brussels.
May's already fragile leadership was put under further pressure when the EU rejected parts of her so-called Chequers plan.
When asked about her ex-Foreign Secretary's comments, May responded: "I have just explained to you why I believe that the plan that we have put forward is a plan that is in the national interest."
The Prime Minister told the BBC's Andrew Marr: "We had on the table from the European Union two options, neither of which were acceptable for the UK. On the one hand, it was effectively keeping us in the customs union, in the single market, and that would not have delivered on the vote of the British people. On the other hand, it was offering a free trade agreement, a basic free trade agreement for Great Britain, and carving Northern Ireland out of the rest of them, away from the rest United Kingdom. Neither of those were acceptable to us."
Her former Brexit Minister David Davis, who resigned in protest at her proposals, again hit out at the plan but said he believed a deal would get done.
"I think there will be a deal, I think it's 80-90% likely there will be a deal, and I think it will end up something like Boris (Johnson) calls Super Canada or as somebody else calls it, free trade plus, but basically a free trade based deal," says Davis.
Davis went on to say he thought Chequers plan will die, one way or another, either in Brussels or in Westminster, and then another alternative will be needed. Davis also spoke of the EU strategy to use the pressure of time in their negotiations and warned that there would be a "scary few months of negotiations" in the coming months.
The conference got off to a bad start after it emerged that a special app released for the event allowed members of the public to log in as senior government ministers and view their personal details. The party was forced to apologise.