Man develops rat disease in Hong Kong
Comments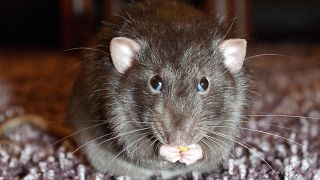 A 56-year-old man in Hong Kong has developed a strain of hepatitis E that normally infects rats, marking the first time it has been transferred to humans, scientists say.
It has prompted fears that the virus could signal an impending outbreak in the Chinese city, which has been plagued by rodent problems due to long hot spells this summer.
The man was diagnosed after doctors found his liver was functioning abnormally following a transplant, which was prompted by a chronic infection of Hepatitis B.
Yet tests for the human form of hepatitis E wound up negative.
It was only when the virus was genetically sequenced that doctors found similarities with the rodent strain.
"This study conclusively proves for the first time in the world that rat HEV can infect humans to cause clinical infection," the University of Hong Kong (HKU) said.
It is thought the man contracted the illness after eating food that had been contaminated by rat droppings. But after receiving antiviral treatment, he was cured.
"As of this stage we can no longer detect the virus in any clinical specimen," said Dr Siddharth Sridhar, clinical assistant professor at HKU, at a news conference on Friday.
His colleague, Professor Yuen Kwok-yung, a microbiologist at HKU, added: "We don't know if in future there will be a serious outbreak of the rat Hepatitis E virus in Hong Kong.
"We need to closely monitor this issue."
The human form of hepatitis E afflicts an estimated 20 million people worldwide, according to the World Health Organization, and can be caused by drinking contaminated water or eating undercooked meat and seafood.
Symptoms include a high fever, nausea, jaundice and grey-coloured faeces.
The animal form has been found in pigs, wild boar and deer as well as rats.