The UAE launches its first NASA space camp for young scientists
Comments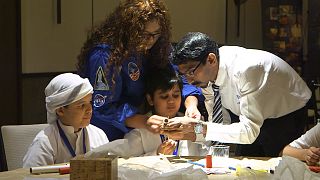 The UAE is aiming to become a world leader in space technology by 2021 and the country is investing heavily in its young scientists.
This summer, Dubai hosted the country's first ever Space and Rocketry Academy Camp, a programme for children which follows NASA's teaching curriculum.
During the camp, a group of 30 students ranging from nine to 18-years-of-age were able to design scaled models of rockets with real fire power. The vessels were launched by the burning of solid fuel and mimicked the controlled explosion of an actual space rocket.
During the camp, students designed and built rocket models
"It's like a dream come true," said participant Ahmed Al Sadi. "Building this rocket makes me feel excited to learn more and discover more about space."
During the training, students also thought of strategies for a Mars rover, learning about the challenges and opportunities that becoming a space scientist could one day give them.
"I would definitely be very happy if my spaceship landed on Mars, or if someone made a new discovery with my help." said junior trainee Maha Al Muhairi.
Rocket models being launched by students at the Space and Rocketry Academy Camp
The UAE's space programme began just four years ago and it already has plans to send the first Arab probe to Mars by 2021. The timing of the mission will coincide with the Emirates marking 50 years since it became one nation.
The country has also recently announced that two Emiratis have qualified for the final phase of the UAE astronaut programme, and they will become the first Arabs to visit the International Space Station by April of next year.
Plus, the UAE Space Agency has confirmed its plans to build the first human settlement on Mars by 2117, and in preparation it has started building a model Red Planet city on earth.
The UAE space programme began just four years ago and has plans to launch a probe to Mars in 2021 and build a settlement on the Red Planet by 2117
According to Dr. Jim Rice, who has worked for more than thirty years with NASA on projects such as the Mars Rover Opportunity, the UAE and his students at the camp are set on the right course for success.
"I've been telling them here that space travel is dangerous, there are failures but you don't quit," says the geologist, "And those I think are lessons for life no matter what you do."
As the country's research and interest into space continues to grow the Space and Rocketry Academy Camp also has ambitions to one day become more than just a summer programme.
It plans to fire-up interest in the next generation of potential astronauts with after-school activities and a permanent learning center to fuel the imagination of students and perhaps one day launch a future space mission.