Coroner blasts Pret A Manger for 'inadequate' allergen labelling after girl died
Comments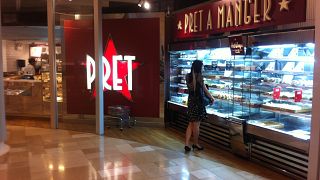 -
A London coroner criticised British fast-food chain Pret A Manger and British Airways on Friday after a teenager died from an allergic reaction during a flight.
Natasha Ednan-Laperouse, 15, collapsed during a flight from London to Nice on September 17 after reacting badly to sesame seeds contained within a Pret a Manger baguette, a coroner has concluded.
She was declared dead the same day in a hospital in Nice.
Ednan-Laperouse had bought the artichoke, olive and tapenade baguette as she was passing through Heathrow Terminal 5 with her father and best friend en route to a four-day break in the south of France.
"The baguette was manufactured to Pret specifications and contained sesame to which she was allergic," coroner Dr Sean Cummings told the West London Coroner's Court on Friday morning.
"There was no specific allergen information on the baguette packaging or on the (food display) cabinet and Natasha was reassured by that," he explained.
He added that Pret A Manger's allergen labelling was "inadequate" and said he would write to the Secretary of State for Environment, Food and Rural Affairs about a regulation that allows businesses that produce food on site to provide reduced allergen labelling compared with factory-made products.
Cummings also blasted British Airways for its on-board medical equipment and said he didn't find it "entirely logical" for the defibrillator to be stored at the back of the plane while other medical equipment is kept at the front.
Two epipens were jabbed in Ednan-Laperouse's legs, but the defibrillator was not used, the inquest was told, because it would have been too dangerous to get it from one end of the aircraft to the other.
"I'm struggling a little bit with why the full range of kit wasn't made available to Dr Pearson-Jones (a junior doctor travelling on the same flight) or why he wasn't made aware of it," Cummings said.
Pret A Manger updated its allergen guide on September 25. It lists sesame as the only allergen in the artichoke, olive and tapenade baguette.
On Friday afternoon, Pret released a statement on the report, stating that they "will learn from this."