What did Kavanaugh and Ford say in their testimonies? | Euronews answers
Comments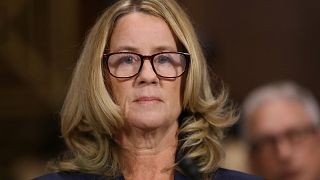 US Supreme Court nominee Brett Kavanaugh and the woman who accused him of a 1982 sexual assault Thursday called to testify separately in the Senate, pushing back a key vote in the judge's confirmation process.
Dr Christine Blasey Ford, a professor at Palo Alto University, testified before the committee. Ford accused Judge Kavanaugh of sexually assaulting her at a high school party in the early 1980s.
Since Ford's allegations were made public, two other women (Julie Swetnick and Deborah Ramirez) have come forward also accusing Kavanaugh of sexual misconduct during the early 1980s.
A further anonymous allegation of sexual misconduct has been made against the judge regarding treatment of a woman friend at a bar in Denver in 1998.
Kavanaugh has been questioned by Committee investigators about all these accusations and denies all.
Kavanaugh's response to the committee investigators on the anonymous accusation was: "We're dealing with an anonymous letter about an anonymous person and an anonymous friend. It's ridiculous. Total twilight zone. And no, I've never done anything like that."
The outcome of this hearing is likely to determine whether Kavanaugh's promotion to the highest court in America is successful.
In the days leading up to the hearing, President Donald Trump stood behind his nominee, describing him on Twitter as a "fine man, with an impeccable reputation".
Trump had repeatedly called into question the trustworthiness of Ford and the other women accusing Kavanaugh of sexual misconduct but, on Wednesday, appeared to slightly soften his support.
What did Ford say in her testimony?
Christine Blasey Ford read a pre-prepared statement, her voice, strained, giving details of the evening when she says Kavanaugh sexually assaulted her.
"I am here today not because I want to be. I am terrified. I am here because I believe it is my civic duty to tell you what happened to me while Brett Kavanaugh and I were in high school," Ford said.
She went on to describe the alleged incident: "Brett groped me and tried to take off my clothes. He had a hard time because he was so drunk and because I was wearing a one-piece bathing suit under my clothes. I believed he was going to rape me."
"Brett put his hand over my mouth to stop me from screaming. This was what terrified me the most, and has had the most lasting impact on my life. It was hard for me to breathe, and I thought that Brett was accidentally going to kill me," she added.
Ford went on to say that "Brett's assault on me drastically altered my life" but "I convinced myself that because Brett did not rape me, I should be able to move on and just pretend that it had never happened." 
She gave details of how information surrounding the incident, including her name and that of Kavanaugh, became public, saying that she "struggled with a terrible choice" when trying to decide whether to release her account of events when the press reported Kavanaugh's confirmation was virtually certain.
Of the consequences of speaking out, Ford said her "greatest fears have been realised" adding "my family have been the targets of harassment and death threats."
Ford concluded by saying it was "not my responsibility to determine whether Mr Kavanaugh deserves to sit on the Supreme Court. My responsibility is to tell the truth."
What did Kavanaugh say in his testimony?
As he started his opening remarks, Kavanaugh chose to scrap his pre-prepared statement that he supplied to the committee on Wednesday, instead saying the speech he was going to use was written Wednesday evening.
"This has destroyed my family and my good name," he began. "A good name built up through decades of public service." He dubbed the allegations against him part of a "calculated political hit."
Kavanaugh also highlighted his record both in the executive branch of government and in the judiciary, where he said he had "handled some of the most significant cases for the liberty of the American people."
His voice cracked as he described his daughters telling him to pray for Dr Ford the night before they both testified.
A key part of his defence was to not question that Ford was sexually assaulted, but say that it was definitely not him.
"I have never done that to her, or to anyone," he said. "It is possible that we met at some point at some events, but I do not recall that." 
In the final part of his statement, Kavanaugh added: "My family and I intend no ill will to Dr Ford and her family. I swear before the nation and God I am innocent of this charge."
Who is Rachel Mitchell and what is her role in the hearing?
After testifying before the Senate Judiciary, Ford was not interviewed by Republican senators.
Chuck Grassley, the senator from Iowa and chair of the judiciary committee, announced the decision that Rachel Mitchell would interview Ford on behalf of the Republican party last Friday. 
Mitchell, a female prosecutor from Arizona has made it her "life mission" to investigate sex crimes. Grassley said she had "been recognized in the legal community for her experience and objectivity".
All 11 Republicans on the committee are male, which was said to be part of the justification for the unusual move — a feeling that having 11 men grill a woman over an alleged sexual assault may not be a good way to proceed.
"I'm committed to providing a forum to both Dr Ford and Judge Kavanaugh on Thursday that is safe, comfortable and dignified," said Mitchell.
Democratic senators on the committee are to quiz Ford and Kavanaugh themselves.