2018 World Judo Championships: Japan beats France to win gold, bronze for unified Korea and Russia
Comments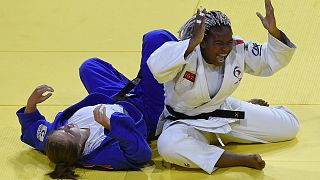 On the final day of the 2018 World Judo Championships in Baku, Azerbaijan, Japan's fans were out in force to watch their heroes attempt to defend their World team title.
And with three heads of state watching on, including the President of the Russian Federation Vladimir Putin in attendance on day 8 of the World Judo Championships, Japan looked unbeatable.
In the first semi-final Japan routed the unified Korean team 4-0, while in the second semi-final France surged past Russia 4-1. In the first bronze medal contest Russia outfought Azerbaijan to win 4-1, while in the second bronze medal contest the unified Korean team whitewashed Germany 4-0.
In the final between Japan and France, Japan's Hisayoshi Harasawa beat France's Rio 2016 Olympic bronze medallist Cyrille Maret after two minutes of golden score by a waza-ari score from uchi-mata to make it 1-0 to Japan.
Then newly-crowned world champion Tsukasa Yoshida defeated London 2012 Olympic bronze medallist Priscilla Gneto to double Japan's lead.
World silver medallist Marie Eve Gahie kept France in the final by beating Japan's world bronze medallist Yoko Ono. Gahie pulled one back by ippon at the halfway point of the contest as the French judoka countered Ono for ippon.
At -90kg Shoichiro Mukai was the hero as he defeated world bronze medallist Axel Clerget with a ko-soto-gake for ippon to end the 2018 World Judo Championships in style. Reigning champions Japan retained their mixed team world title with a comfortable 4-1 victory over France.
Back-to-back victories for Japan, and Mukai was able to enjoy the moment with his team mates, as they were congratulated by team mates, fans and head coach Kosei Inoue.
The Japanese team received their medals from IJF President Marius Vizer and showed that the team from the homeland of judo is still the team to beat when it comes to the team competition.
"I fought the individual competition and I was able to get the gold medal. And after winning the gold, I had the ultimate goal of competing and wining the gold medal with my team," said Tsukasa Yoshida in an interview. "It was very important for the Japanese team to repeat the victory of 2017. So to achieve this I am very happy," she said.
Unified Korean team wins bronze
The unified Korean team is more than an idea, it's a reality, on the mat and off the mat through the "white card" peace through sport campaign. A gesture of inclusion, tolerance and peace.
And the Korean team performed brilliantly together. In their bronze medal match against Germany, they were untouchable, winning every one of their contests, to earn a 4-0 victory and make history on the final day of the 2018 World Judo Championships.