Orban sends thank-you letters to MEPs who voted against Article 7
Comments
By Alice Tidey & Noemi Mrav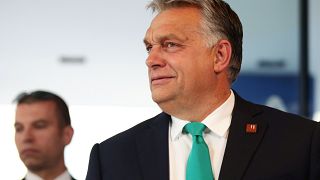 -
Hungarian Prime Minister Viktor Oban has sent thank-you letters to European members of parliament who voted against triggering Article 7 against Hungary, blasting the Sargentini report for being filled with "factual errors".
One of the letters seen by Euronews was sent to Czech MEP Jan Zahradil on September 14 — two days after the EU Parliament backed the launch of Article 7 against the eastern European country.
Zahradil was one of 197 MEPs who voted against the motion, 448 voted in favour. It was not immediately clear how many MEPs received the thank-you letter.
"I appreciate the support you've shown towards national sovereignty and solidarity during the vote," said the letter stamped with the official seal of the prime minister's office.
"I can assure you that regardless of the shameful attacks of pro-immigration forces, we will not give in to extortion. We will continue to fulfil our European obligations and defend the borders of Europe and Hungary, for the sake of our citizens," Oban's letter added.
The EU Parliament backed the launch of Article 7 after Dutch MEP Judith Sargentini wrote in a report that Hungary had breached various EU values, citing migrant abuse, restrictions on press freedoms, corruption and conflicts of interest as well as "stereotypical attitudes" towards women.
The motion, dubbed the "nuclear option", could see the EU impose sanctions on Hungary and restrict its voting rights.
Prior to the vote, Orban had accused European lawmakers of "blackmail" and dismissed the report's findings.
He renewed his attack on the report in his letter to MEPs, saying that it "is a verdict against Hungary and the Hungarian people".
"Not only is it based on political insinuations and factual errors, but it deploys double standards and as such it undermines the credibility and integrity of the European Parliament and the European institutions in general," he added.
Orban told Hungary's parliament last week that the country would appeal Article 7 proceedings.