Hundreds of birds in 'collective suicide' at Ecuadorian high-altitude lakes
Comments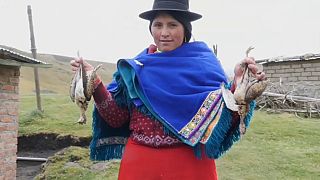 Every year in the high-altitude lake area of Ozogoche, in eastern Ecuador, hundreds of upland sandpipers (known in Spanish as cuvivíes) fall dead in the months of September and October.
Many theories have hoped to explain this bizarre occurrence in the Andean province of Chimborazo but it's not yet clear why these small greyish birds throw themselves into the freezing cold water of the lakes that are considered sacred by the local indigenous community.
While locals think of it as a supernatural phenomenon thought of as a gift to Mother Earth, researchers are trying to find a scientific explanation.
Ornithologist Tatiana Santander has ruled out the possibility that the birds could have a sickness that was making them dive into the lake.
"This happens every year, so it's a bit hard to prove that the birds are sick and die this way," Santander told AP.
Another theory says that the sulfuric steam from volcanic lakes is intoxicating the birds, however, no other local species appear to suffer from this.
Although she hasn't been able to prove any of the theories, Santander believes the weather has something to do with the mysterious actions of the birds.
"We consider that, because of the weather of the place, the strong winds make the birds fall into the lake and they receive a thermal shock that causes their death."
But the scientific explanations don't matter to the community. The locals believe that the lake has a special energy that attracts the birds and brings the rainy season with them. Locals also believe having a bath in the freezing waters has a medicinal effect.
'People here celebrate the birds'
"Legend says that these birds make a tribute to the lakes we have here, says Cristina Medina, head of the local tourism office. "Because of tradition, people here celebrate the birds."
This festival, which now attracts people from all over the world, sees hundreds of indigenous people drink, eat, and dance near the sacred lakes' shores.
According to indigenous beliefs, the sandpipers terminate their lives to honour Apus or the spirits living in the sacred lake when they fly through Ecuador in their annual migration from Alaska to the Argentinian pampa. There are so many dead birds by the end that the locals have started incorporating them into their diet.
For them, the animals' sacrifice is not a myth but a reality.
"Somebody spoke about it, but today there are people who are witnesses, who say they've seen it, so they stop being just a legend and become a reality. We would all be willing to see it," Miguel Marcatoma, a villager that attends the celebrations every year, told AP.
Raúl Tenesaca, the local shaman, is the one who leads the purification ritual to honour the birds. For him, the birds sacrifice themselves "for the life of the people who live here, in the coldest altitudes of this place".