EU airlines allowed to fly in no-deal Brexit
Comments
By Reuters with NBC News World News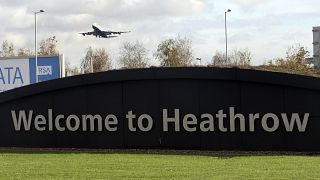 -
LONDON — Britain will allow EU airlines to continue to fly into the country if it leaves the bloc without a divorce deal, the government said in technical papers published on Monday, adding that it plans to stick to EU rules on aviation safety.
The 'no-deal' papers acknowledged the risk that flights could be grounded if Britain leaves the European Union on March 29, 2019, without a deal and said some pilot and safety licenses issued by the UK would no longer be recognized in the EU.
Britain has said it wants to continue to participate in the European Aviation Safety Agency (EASA), but without a Brexit deal this might not be possible.
The UK government said it was aiming to avoid such a worst-case scenario, and would look for an agreement on flying rights if there was a disorderly Brexit.
"In this scenario the UK would envisage granting permission to EU airlines to continue to operate. We would expect EU countries to reciprocate in turn," it said in a paper published on Monday.
A deal between the UK and EU, or between the UK and individual countries, was possible, it said.
On aviation safety in a no-deal scenario, the UK said it would retain EU legislation, and that functions currently performed by EASA would instead be performed by Britain's aviation regulator, the Civil Aviation Agency (CAA).
The papers said that, for pilot licenses, the CAA would need to validate any EASA license used to fly a UK-registered aircraft, and UK-issued licenses would need to transfer to EASA if they wanted to operate EU-registered planes.
On most other aviation safety certificates, including for aircraft and for maintenance, parts and cabin crew, however, Britain said EASA-issued documents would remain valid in the UK for two years from the date of Brexit.
They would then need to be replaced by CAA versions before the end of that period.
But it warned UK-issued license and certificate holders that their certificates would no longer be valid in the EU.
For instance, in a potential headache for some parts suppliers and maintenance firms, the papers said the EU's indications are that it would not recognize some safety-linked certificates issued by the CAA, meaning that UK-certified parts could not be installed on EU-registered aircraft, and UK-approved engineers would not be allowed to work on them.
The UK said it was encouraging the EU to take "reciprocal action in recognizing UK-issued certificates".
On security, the UK government said that, in the event of a no-deal Brexit, there would be no reason for the UK's aviation security regime not to be recognized by the EU as equivalent, meaning no additional security restrictions.
However, if the EU decides not to recognize the UK aviation security system, then passengers from the UK transferring through EU airports and their luggage would have to be rescreened when changing flights in EU hub airports.