German coalition's future at stake as parties again try to resolve spymaster affair
Comments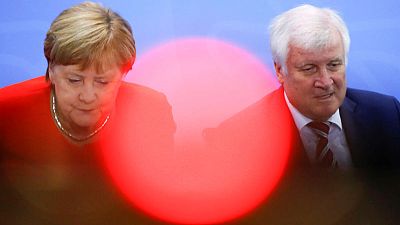 By Michelle Martin
BERLIN (Reuters) – The fate of Chancellor Angela Merkel's unwieldy six-month-old government is hanging in the balance as the three coalition parties seek again this weekend to resolve their dispute over Germany's scandal-tainted spymaster.
The coalition parties agreed on Tuesday to transfer spy chief Hans-Georg Maassen to the interior ministry following accusations that he harboured far-right views after he questioned the authenticity of video footage showing radicals hounding migrants in the eastern city of Chemnitz.
But the compromise deal, which would put Maassen in a better paid job, unravelled on Friday when Andrea Nahles – leader of the centre-left Social Democrats (SPD), junior partner in Merkel's conservative-led coalition – said it was a mistake.
Merkel and her Bavarian ally Horst Seehofer agreed to review the deal and the chancellor said the three party leaders wanted to find a sustainable solution this weekend.
A source from one of the parties told Reuters no meeting was planned for Saturday.
Annegret Kramp-Karrenbauer, general secretary of Merkel's Christian Democrats (CDU), wrote to party members to say the CDU thought the planned talks should be used "to clarify whether all coalition partners can continue to unite together behind the common mission".
She said there must no longer be any doubt about whether the governing parties were able and willing to tackle the issues that mattered to people.
Former SPD leader Sigmar Gabriel told magazine Der Spiegel: "If the grand coalition doesn't manage to do what the people expect of it – namely stability and an ability to act – it has lost its raison d'etre."
UNDERMININGTRUST
Kevin Kuehnert, who leads the SPD's youth wing and campaigned against the formation of the 'grand coalition', told newspaper Die Welt that the deal was incomprehensible for many Germans and was undermining trust.
"The coalition should not be maintained at any price," he said. He also suggested the coalition would not last until this legislative period ends in 2021.
Nahles had been widely criticised by SPD members for agreeing to the deal, with some calling for the party to quit the coalition. Some members praised her on Saturday for admitting the mistake and seeking to correct it.
Polls published this week showed 72 percent of voters had less confidence in the government and almost half of Germans were in favour of a new election, reflecting discontent with the handling of the Maassen affair.
Support for Merkel's conservative bloc – made up of her CDU and Seehofer's Christian Social Union (CSU) – slumped to a new low of 28 percent, a poll showed on Friday, while the far-right Alternative for Germany – which backed Maassen – hit a record high of 18 percent, ahead of the SPD on 17 percent.
Christian Lindner, leader of the opposition Free Democrats, said on Twitter late on Friday that revisiting the Maassen deal would result in the coalition breaking up or costing at least Seehofer or Nahles their job.
Senior German conservative Volker Bouffier told the Funke group of newspapers that the coalition could only continue if all partners realised they needed to stop arguing.
The 'grand coalition' only took office in March, almost six months after an election, due to the lack of other viable governing options. It got off to a bumpy start, with Merkel only managing two months ago to end a painful row with the CSU over immigration.
(Additional reporting by Markus Wacket; Editing by Gareth Jones)
euronews provides breaking news articles from reuters as a service to its readers, but does not edit the articles it publishes. Articles appear on euronews.com for a limited time.