China warns U.S. to withdraw new sanctions or 'bear the consequences'
Comments
By Alexander Smith and Abigail Williams and Dawn Liu with NBC News World News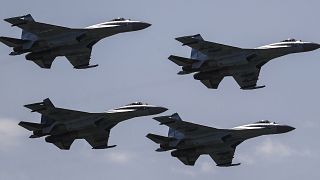 -
Copyright

Sergei Ilnitsky
Withdraw the sanctions or "bear the consequences."
That was the unnervingly vague ultimatum that China leveled at the Trump administration Friday, after Beijing was punished for buying Russian arms.
Since December, Russia has delivered 10 Sukhoi Su-35 combat aircraft to China as well as equipment related to Moscow's feared S-400, a state-of-the-art missile defense system.
From a U.S. perspective, the problem was that Beijing bought these components from Russia's state arms export agency, which was already on a U.S. blacklist.
World news
After months of deliberation, the U.S. on Thursday announced sanctions against the Chinese military agency that made the purchases, as well as its director.
Beijing's angry response came hours later.
The U.S. sanctions have "seriously violated the basic norms of international relations and seriously damaged the relations between China and the United States," Foreign Ministry spokesman Geng Shuang told reporters on Friday. "We strongly urge the U.S. to immediately correct the mistakes and withdraw the so-called sanctions, otherwise the U.S. must bear the consequences."
It did not specify what these consequences might be.
So what's actually going on here?
On the surface this might seem like a simple tit-for-tat exchange between two world powers that have increasingly locked horns in recent months. The reality is more complicated.
Despite China being named in the measures, "the ultimate target of these sanctions is Russia," a senior Trump administration official said Thursday.
The official, who spoke on condition of anonymity, said that the sanctions were "not intended to take down the economy of third-party countries" such as China.
The punitive measures are intended to punish "Russian malign acts," the official added.
World news
These "malign acts" range from Russia's annexation of Crimea and its participation in the Ukrainian and Syrian wars, to its meddling in the 2016 presidential election.
The U.S. thinking is pretty straightforward: By targeting countries that buy Russian weapons, the U.S. is trying to squeeze the money Moscow gets from selling arms: buy from them and you might also be blacklisted.
Thursday was the first time Washington has sanctioned anything or anyone for dealing with those blacklisted under the Countering America's Adversaries Through Sanctions Act, known as CAATSA.
"This is a significant step," the administration official said.
With the same pen-stroke, the U.S. also blacklisted another 33 Russians who it said have been working for or on behalf of Russian defense or intelligence services. Some of these people were among those indicted by special counsel Robert Muller for allegedly meddling in the U.S. election.
A message to Turkey?
All this is playing against a backdrop of changing relations between China and Russia.
Cooperation between these world powers appears to be growing, underscored by their joint participation in military exercises earlier this month that were billed by Moscow as its biggest since the Cold War.
Code-named "Growler" by NATO, the S-400 packs powerful radar and can hit aerial targets up to 250 miles away. It can target stealth warplanes, such as the Pentagon's latest F-35 fighter jet.
As if all that wasn't complex enough, the U.S. also hinted these sanctions are warnings to other countries — namely Turkey.
World news
Turkey is a NATO member and traditionally an ally of the West. However, under strongman President Recep Tayyip Erdoğan, it has more recently grown closer to Russia — including ordering the very same S-400s that landed China in hot water this week.
"We hope that at least this step will send a signal of our seriousness and perhaps encourage others to think twice about their own engagement with the Russian defense and intelligence sectors," the administration official said.
Alexander Smith reported from London, Abigail Williams reported from Washington, and Dawn Liu from Beijing.