2018 World Judo Championships: Japan's Abe siblings make judo history with gold titles on same day
Comments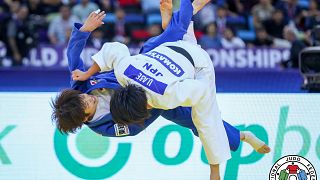 On the second day of the 2018 World Judo Championships in Baku, Azerbaijan, Uta Abe and her older brother Hifumi Abe, the reigning world champion at under 66kg, were the talk of the judo world as they attempted to make Judo history by becoming the first brother-sister duo to take world titles on the same day.
Memorable performances
Azerbaijan's President Ilham Aliyev welcomed Judo fans from around the world to a beautiful opening ceremony filled with music, dazzling light displays, and memorable performances.
But the most memorable of all was the performance from two of the superstars of world judo.
First up was Uta Abe in the women's under 52kg category. Spectacular judo put her into the semi-final against world number one Amandine Buchard of France. Tenacity, guile, and brilliance secured an armlock, followed by a submission for an emphatic victory for Abe in just 26 spectacular seconds.
Her teammate Ai Shishime lay in wait in the final. And Abe overcame the reigning world champion in style. Uchi mata, ippon, perfection and halfway to history.
Abe is world champion for the first time, and almost certainly not the last.
Mr Marius Vizer, President of the IJF, presented Abe with her gold medal.
The stage was then set for her big brother Hifumi Abe to retain his crown and complete the historic Abe double.
As expected, the defending world champion was on fire.
A beautiful ouchi-gari was followed by a trademark seoi nage. Then against Georgii Zantaria of Ukraine, another sensational display. Two waza aris, and he was into the final. There Yerlan Serikzhanov would face him, but the Kazakh was no match for the defending champion.
A ko-soto attack was countered perfectly with uchi mata. And history was written. The first-ever brother and sister to win world championship gold on the same day.
The unique double is one of the most incredible achievements in the history of the World Championships as the poster figures for Tokyo 2020 shared their sublime skills with the world.
The superstar siblings, who were competing together at a World Championships for the first time, were mobbed by the world's media in the mixed zone as their achievements have deservedly made them household names in Japan and around the world.
Azerbaijan minister of youth and sports Mr Azad Rahimov presented the now double world champion with his medal.
"This was one of my goals, one of our goals, to win the tournament together. So to be able to achieve that was quite an honour for me," Uta Abe said in an interview alongside her brother.
"Firstly, one of my goals was to get the double, but what was more important to me was to win this with my sister. I'm very proud of my sister and even though she is my sister I respect her a lot as a Judoka," added a very proud Hifumi Abe.