Watch: Family saved by Aquarius ship make a new life in Spain
Comments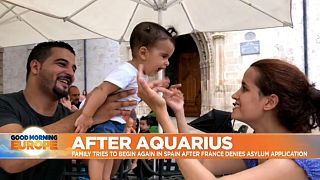 Euronews correspondent Anelise Borges reports on the lives of the Dahrabou family, who stepped off a rescue boat, the Aquarius, to begin a new life in Valencia, Spain, three months ago.
Morroco-natives Ali and Miriam Dahrabou and their baby daughter Miral had aimed to seek asylum in France due to "its proximity and culture". However, French authorities rejected their application, leading them to a life in Spain.
Borges had spoken to the family when they were aboard Aquarius months ago, where they had informed her that they were fleeing violence in Lybia. Only when Borges read Miriam's asylum seeker transcript, did she learn that her family were living in poverty, and had sold her to a drug trafficker. Suffering from rape and coercion, she fled to Lybia. Due to violence there, the family made the decision to board a dinky and cross the Mediterranean sea.
What next?
In June, Aquarius found itself stranded at sea for seven days, with more than 600 rescued migrants on board. After being rejected by Italy and Malta, the ship docked in Valencia, Spain and sparked the conversation yet again, about the lack of coherence in EU immigration policy.
There is currently only one ship, Aquarius 2, patrolling the sea along the Libyan coast. The vessel belongs to German-French charity SOS Mediterranee and Medicines sans Frontieres, while other humanitarian groups have given up, citing the blockades at Italian and Maltese ports.
Since both Italy and Malta have toughened their stances on migration, Spain has seen a surge in asylum seeker applications. Spanish authorities say that the only way to deal with the situation is at EU level.
Humanitarian organisations voiced their frustrations of several countries for criminalising their efforts to rescue migrants at sea at a conference Wednesday. Organisations Proactiva Open Arms, SeaWatch and Medicines sans Frontieres called on EU leaders to discuss migration at their meeting in Salzburg, Austria.
EU leaders have been at loggerheads as to how to tackle the migration crisis, which peaked in 2015 when around 1.2 million asylum seeker applications were made. Since then, immigration numbers have declined, with fewer than 100,000 migrants arriving in Europe without the necessary documentation this year, according to EU Council President Donald Tusk.
Prior to the launch of the two-day meeting in Salzburg, Wednesday, Tusk asked EU leaders to "stop the migration blame game". 
"Despite aggressive rhetoric, things are moving in the right direction. Mostly because we have been focused on external border control," he said.