Why was Germany's top spy Hans-Georg Maassen ousted? | Euronews answers
Comments
By Jessica Salz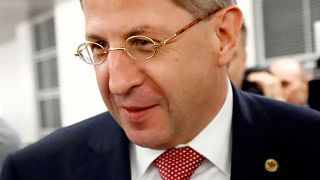 Germany's top spy has been ousted from his post, pushing the man of secrets into the spotlight. Euronews' Berlin correspondent Jessica Salz explains how Hans-Georg Maassen's dismissal came about — and what it means for Chancellor Angela Merkel. 
Why is Hans-Georg Maassen such a controversial character?
As head of Germany's domestic intelligence agency, Hans-Georg Maassen recently came under fire for questioning the authenticity of videos that depicted far-right extremists chasing foreigners down the street in Chemnitz on August 26. The videos were real, and many people pointed out that a top spy should have known to verify a video before commenting on it. He was also perceived to be downplaying the violence depicted in the videos. 
Maassen has also been accused of forging links to the right-wing AfD party: he is alleged to have given members of the party advice on how to avoid surveillance, as well as passing on information to them about extremism from reports that hadn't yet been published. The SPD party and many opposition MPs demanded that Maassen be fired.
Did he lose his job?
Yes, but he was immediately given a better one! Maassen will now become deputy head of the interior minister, which is seen as a step up. Interior Minister Horst Seehofer had defended Maassen and will now welcome him into his own fold. There was outrage over his "promotion" from members of the SPD, one Green party leader called it an "incredible fudge". His appointment was decided by the heads of the governing parties and is being interpreted as Merkel trying to prevent another government crisis and keep Seehofer happy.
Will this backfire on Merkel?
Merkel has just hired a critic of her migration policy into the interior ministry to join the most prominent critic of her migration policy — Horst Seehofer. The two men will now be working closely together on issues such as migration and the integration of refugees into Germany and they will likely put more pressure on the chancellor to take a tougher stance. Merkel may live to regret this decision. It also threatens the public perception that, as chancellor, she repeatedly bends to the demands of Seehofer. There is still disunity in the government, but there is real tension between leading Conservatives, and this could spell trouble for Merkel.