Russia says it no longer blames Israel for downing its plane in Syria
Comments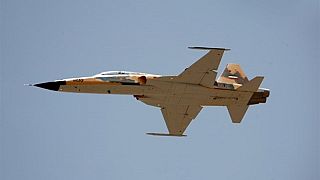 Russia is no longer blaming Israel for the deaths of 15 people on board a military plane that was shot down near its base in northern Syria on Monday night.
Russia's defence ministry had earlier on Tuesday suggested that Israeli warplanes flying nearby had deliberately attracted Syrian anti-aircraft fire to down the place.
"We see the provocative actions by Israel as acts of hostility... We reserve the right to take commensurate measures in response," Russian Defence Ministry spokesman Igor Konashenko had said.
But just a few hours later Russian President Vladimir Putin said it was the fault of "a chain of tragic accidental circumstances."
Israeli jets had been bombing targets near to the airbase. In the past it's known to have targeted the Iranian military inside Syria who, along with Russia's military, has turned the war around for Syrian President Assad.
Syria's seven year old war has sucked in many international powers, including the United States and Turkey.
In February Turkey shot down a Russian warplane, saying it had entered Turkish airspace.
Earlier on Tuesday a Turkish presidential spokesman said the Syrian opposition would remain in the last major rebel stronghold in Idlib Province as part of an agreement signed between Turkey and Russia.