Man is critically injured after Belgian police shoot at him
Comments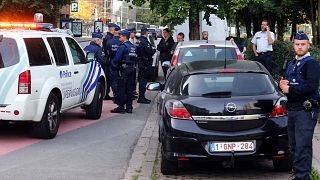 A Belgian policeman shot and critically injured a man after he attacked one of the officers with a knife in Brussels. That's according to a Brussels police spokeswoman.
It happened in a northern neighbourhood of the capital city.
The man had been sleeping rough in a park (Maximilien Park) near a centre for asylum seekers.
The officers had asked two men to move on but one of them pulled out a knife and had refused to drop it.
This eyewitness heard the gun shot. "I heard, well I heard a gunshot, then two or three, then a guy fell down on the ground and the police were shouting 'drop the knife, drop the knife!', and the guy fell on the ground."
The Police say they don't know the motivation for the man to attack the police officer and say there are no indications yet to prove its terrorist related.