Forest protesters arrested in Germany
Comments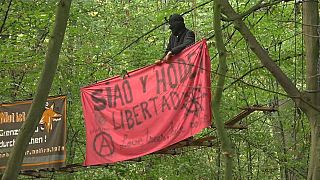 German police arrested around 30 environmentalists on Saturday in the Hambach forest in North Rhine-Westphalia. The protesters want to halt clearance of trees to make way for the mining of brown coal, or lignite, that is burned by nearby power plants. The woods are home to centuries-old-trees and the forest is said to go back around 12,000 years.
"We wanted to get in and make an act of civil disobedience and thereby stop the cutting of trees," protester Anna Schönberg told euronews.
One protester said he had been struck by a police officer although the chief of the police unit rejected that and said the man hit his head falling down. An operation to clear the activists has been going on for several days.
Many of them live in around 60 makeshift treehouses, making it difficult to remove them safely. The authorities have brought in cranes to help them gain easier access but the protesters are strongly resisting.
Germany still generates 37 percent of its electricity from coal including 23 percent from lignite. The country is planning on phasing out coal power but some people think they're taking too long
"We export a massive amount of electricity," said a tourist visiting the forest. "There's no need for further coal mining. And regarding Hambach forest: there is still enough coal down there to dig further on. They should leave us those 200 hectares of Hambach forest alone."
But some think the mining is what keeps the local economy going, including the widow of a miner who used to work for the company RWE:
"As long as coal, the 'black gold' is there beyond us, all of it should be brought up into the light in order to keep on running everything."
There are still 21,000 jobs linked to coal mining in Germany, but if Germany is to meet its EU commitments on CO2 emissions it will have to make a much greater effort to reduce its reliance on coal.