US prepares to impose a new round of trade tariffs on China
Comments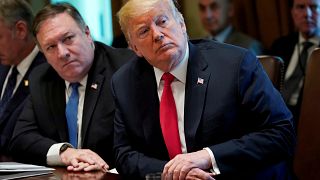 President Trump has reportedly said the US should move forward with the next round of tariffs on Chinese imports to the value of about €170 billion.
Administration sources said the tariffs are to be applied to goods including consumer items, electronics and clothing accessories such as handbags.
They would be in addition to levies placed on €43 billion of goods in the past few weeks.
Some economists have warned against the move. And the Chinese Ministry of Foreign Affairs spokesman Geng Shuang suggested it could backfire.
"I think you have already noticed," he said.  "That at the recent hearing on the US's additional tariffs on $200 billion worth of Chinese imports, the majority of the representatives believed that the additional tariffs will hurt US enterprises or even destroy those affected industries."
There's been no formal announcement of when the new tariffs might be imposed.  But when the move was floated earlier this month US stocks dropped considerably.