This map shows how 'snow is disappearing from Switzerland'
Comments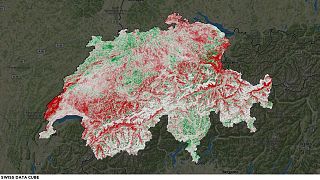 Snow covering an area twice the size of Luxembourg has been lost in Switzerland over the last two decades, researchers said.
Scientists at the University of Geneva claim 36% of Swiss territory had little or no snow over the decade to 2005.
But that figure has grown to 44% — representing a 5,200 km2 chunk of land — between 2005 and 2017.
The red areas in the map above show where snow levels have dropped, while green indicates areas of growth.
"In Switzerland snow is disappearing and this phenomenon is probably linked to global warming," said the university.
"This irrefutable observation is based on the preliminary analysis of 22 years of satellite data covering the entire Swiss territory."
Researchers used years of images from earth observation satellites to build a picture of the receding snow.
They drew their conclusions using data extracted from the Swiss Data Cube, which stacks the images on top of each other so trends can be spotted over time.
"We have stored the equivalent of 6,500 images covering 34 years, a feat that only an open data policy has made possible," said senior lecturer Gregory Giuliani.
"If we had to acquire these images at market value more than six million Swiss francs would have had to have been invested."
"It is an inestimable wealth for the scientific community."
Compare how snow levels have changed
Drag the vertical bar to the left or right to see how snow levels changed in Switzerland between 1995-2005 and 2005-2017.
Dark red indicates little or no snow, while blue shows high levels of the white stuff.