US school to 'discipline students with wooden paddle'
Comments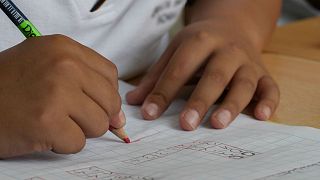 A school in Georgia announced a new disciplinary measure that involves spanking children with a wooden paddle, according to local reports.
Georgia School for Innovation and the Classics last week sent parents a letter asking permission to use the new practice on their children, WRDW-TV reported.
If the parents do not consent to the "paddling", they have to agree to up to five days suspension for their child instead, the Georgian television station said.
It quoted school superintendent Jody Boulineau as saying: "There was a time where corporal punishment was kind of the norm in school and you didn't have the problems that you have."
"I've heard 'great', 'it's about time', 'we're so glad that this is happening again', 'they should've never taken it out of schools'. All the way to 'oh my goodness I can't believe you are doing that'," he added.
Boulineau said the school had received a little over a hundred forms back, a third of which gave consent to paddle the child concerned.
He added that the policy would concern kindergarten (5-year-olds) through to ninth grade (14 and 15-year-olds).
"A student will be taken into an office behind closed doors. The student will place their hands on their knees or piece of furniture and will be struck on the buttocks with a paddle," WRDW-TV cited the form as reading. It said children would be hit no more than three times.
Boulineau said the punishment won't be used often, and just the threat of it would act as a deterrent.
If parents have given their consent, they will still be contacted if the disciplinary measure is used and the school said it would use a three strike policy, with no paddling on the first or second offence, according to WRDW-TV.
The Georgia-based station added that the practice is still legal in Georgia and 19 other states across the USA but it's rare for a school to have a policy for it.
The Georgia School for Innovation and the Classics said it declined to comment when contacted by Euronews.