Italian government displays 'contradictory attitude' to migrant boats, says Tsipras
Comments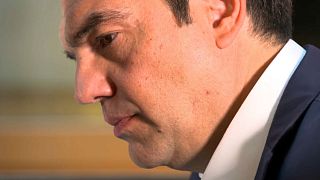 The Italian government has displayed paradoxical behaviour in its treatment of migrant boats arriving on the Mediterranean, Prime Minister of Greece Alexis Tsipras told Euronews.
"On the one hand, it (the Italian government) refuses to recieve boats with migrants and, on the other hand, when these boats enter its waters it asks its neighbouring countries to accept them," he said.
Italy was involved in a further diplomatic standoff with its neighbouring countries in August when it again refused to let a boat full of stranded refugees and migrants disembark, this time demanding other EU countries agree to take them in.
Tsipras addressed the issue among others, which included a proposal by FYRO Macedonia to hold a referendum on the country's recent name accord, austerity in Greece and the rise of the far right, in an interview with Euronews journalist Efi Koutsokosta in Brussels.
Austerity and the rise of the far-right
The Greek Prime Minister said the main reason for the rise of the far right in Europe was that the EU possessed a "democratic deficit which consists of fiscal fetishism and a neoliberal economic approach to crisis management."
He also cited this as one of "the main reasons for which Europe stopped being attractive to its citizens".
"Greece needed eight years under tough programmes of fiscal adjustment, while other countries managed to get out of them in three years," he said.
FYROM name dispute
Tsipras said that he supports FYROM Prime Minister Zoran Zaev in a referendum on a recent deal with Greece, which saw the countries sign an agreement in June and the latter become the Republic of Northern Macedonia.
"It's a big chance for Greece, it's a big chance for the region, it has solved a problem that has existed for decades," he said of the name-change deal.
"The recognition from our neighbours, who admitted that the history of ancient Macedonia is Greek, this is a huge achievement," he added.
The controversial and long-running dispute has derailed attempts by FYR Macedonia to join the EU and NATO.
The full interview with Alexis Tsipras will air on the Global Conversation Thursday September 13.