FEMA issues dire warnings ahead of strongest hurricane 'in decades'
Comments
By Daniella Silva with NBC News U.S. News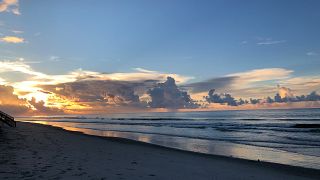 -
Hurricane Florence is strongest storm to target the Carolinas and Virginia region "in decades," the Federal Emergency Management Agency said Tuesday while issuing dire warnings for the roughly one million people ordered to evacuate before the Category 4 storm makes landfall.
"Hurricane Florence is a very dangerous storm," Jeffrey Byard, FEMA's associate administrator for response and recovery, said at a news conference.
More than one million citizens from the Carolinas and Virginia were currently under mandatory evacuations he said."We cannot stress the importance to our citizens that are in evacuations to heed the local and state warnings," he said, adding, "Hurricane Florence is the strongest storm to target the Carolinas and this part of our country in decades."
"There is currently nothing that's projected to slow the storm down, to weaken the storm," he added. "We are planning for a hard impact of a Category 4 storm.
Byard said FEMA expected power outages, infrastructure damage and potential loss of life.
Florence is expected to approach the coast of the Carolinas on Thursday, said FEMA's National Oceanic and Atmospheric Administration liaison Steve Goldstein.