Paris knife attack: What we know so far
Comments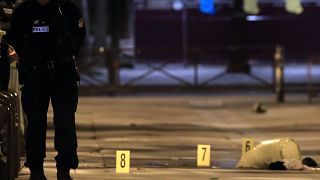 Seven people, including three tourists, were wounded on Sunday night in a violent knife attack in Paris.
Here's what you need to know.
What happened
A man armed with a knife and an iron bar started on a violent rampage shortly after 11 pm (10 pm CET) on the banks of the Canal de l'Ourcq in the northeastern district of Quai de Loire, near the MK2 cinema.
Eyewitness Youssef Najah, 28, said he saw the man running and holding a knife about 25-30 cms long.
People playing boules chased the attacker off by throwing balls at him, forcing him into a side street where he attacked two British tourists.
"Around four or five balls hit him in the head, but they weren't able to stop him," Najah said.
The man was unconscious when officers arrived on the scene having been overpowered by onlookers and authorities took him to hospital, according to police.
An Algerian man told Le Parisien newspaper he was part of the group that stopped the knifeman and said he "looked drugged". 
He said the attacker sustained "several blows from petanque balls, iron bars and sticks". 
"I managed to jump on him and throw him to the ground and get his weapon off him," he added.
The attacker
The perpetrator's identity has not yet been released by French authorities.
Judicial sources told the AFP agency that the attacker is believed to be an Afghan national. They added that "nothing at this stage shows signs of a terrorist nature in these assaults."
The man is believed to be in his thirties.
Victims
Seven people were wounded in the attack, four of them critically. All were taken to hospital for treatment.
Two British tourists, an Egyptian tourist and a local man were among the injured, police said.
The names of the victims have not yet been released.
The UK's Foreign Office confirmed that two of the critically-wounded victims were British nationals.
"We are urgently investigating this incident and are in close contact with the French authorities," they said in a statement.