Dallas officer who entered wrong apartment, killed man, arrested on manslaughter charge
Comments
By Tim Stelloh with NBC News U.S. News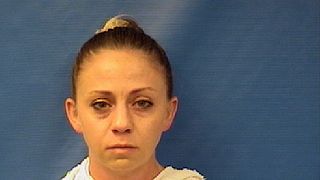 -
Copyright

Kaufman County Sheriff's Office
A Dallas police officer who allegedly entered an apartment that she believed was her own and fatally shot the resident was arrested Sunday for investigation of manslaughter.
Amber Guyger, 30, a four-year veteran with the Dallas Police Department, fatally shot 26-year-old Botham Shem Jean last Thursday night after allegedly going into the wrong apartment in her building andfatally shootingBotham Shem Jean, a 26-year-old native of the Caribbean island of St. Lucia.
PThe shooting just before 10 p.m. local time (11 p.m. ET) at the South Side Flats, an upscale apartment building south of Dallas' downtown, occurred when Guyger was off-duty, police said.
Police said in a statement Friday that the officer "returned to what she believed to be her apartment after her shift ended," and that "she was still in uniform when she encountered Mr. Botham Shem Jean inside the apartment."
Police said it wasn't clear what interaction occurred between the officer and the victim, but at one point the officer fired her weapon and struck Jean. The officer then called 911, and firefighters transported Jean to a hospital where he died.