Footage of Moldovan president's car crash emerges online
Comments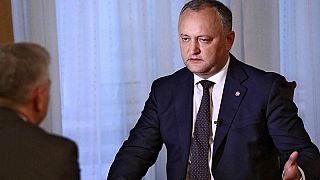 -
Footage of Moldovan President Igor Dodon's car crash has surfaced on social media.
Dodon, 43, was involved in a car crash on Sunday but was not seriously hurt, according to his press office.
"There was a car accident, thanks to God everyone is safe and sound," said spokeswoman Carmina Lupei.
Local media reported that the crash happened when an oncoming lorry overtook a vehicle and crashed into the presidential convoy near the town of Straseni, about 30 kilometres north of Moldova's capital Chisinau.
One of the cars overturned and Dodon was taken to the hospital, having suffered only light injuries such as scratches and bruises. However, local media reports say his mother is currently in a serious condition.
Doden has ruled Moldova since December 2016, and is considered a pro-Russian leader for the former Soviet Republic.