Genoa bridge reconstruction to cost 150-200 million euros, official says
Comments
By Reuters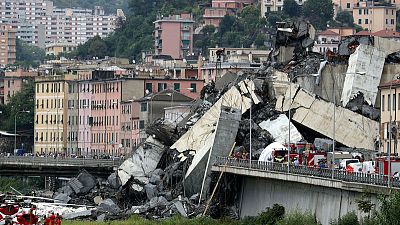 -
CERNOBBIO, Italy (Reuters) – Rebuilding Genoa's collapsed motorway bridge will cost 150 to 200 million euros (£134 million – £179 million), a local authority official said on Sunday.
The work will be undertaken by state-controlled Fincantieri, in cooperation with Autostrade per l'Italia, Giovanni Toti, the governor of the Liguria region, which is centred on Genoa, told a business conference in northern Italy.
Last month's collapse of the bridge operated by motorway group Autostrade, which is controlled by infrastructure company Atlantia, killed 43 people.
"The reconstruction will cost between 150 and 200 million euros, while 10-12 million will be necessary for the demolition of the old one and more funds should be granted to families and shopkeepers affected by the disaster," said Toti.
The regional governor has been appointed as the coordinator for the bridge disaster relief, giving him a powerful voice in the reconstruction initiative.
Italy's ruling coalition, which comprises the far-right League and anti-establishment 5-Star Movement, has accused Autostrade of serious oversights in its maintenance of the bridge and said it wants to revoke its motorway concessions.
Transport Minister Danilo Toninelli, who is a member of 5-Star, has said Autostrade must pay for the rebuilding work, but should not be involved in any other way.
But Toti appeared to reject that line. "Fincantieri will have the leadership of the reconstruction, together with a group of companies that will also include Autostrade," he said.
Toti said he had asked the government to issue a decree to waive European Union tender rules for public works to fast-track the reconstruction.
A consortium including Fincantieri and Autostrade would be the quickest way to rebuild the viaduct, a key piece of infrastructure for both Genoa and the country, he said.
"The port of Genoa generates 1.5 percent of Italy's gross domestic product … we have to focus to give the bridge back to Genoa and its citizens," said Toti, who is a member of the conservative, opposition group Forza Italia! (Go Italy!).
Toninelli took to Twitter to criticise Toti's drive to put together a consortium, saying he was using the disaster to win political consensus.
But Toti dismissed the attack: "A ministry that was not able to supervise infrastructure as it should have cannot block local authorities who are working efficiently on behalf of their citizens," he said.
(Reporting by Francesca Landini; Editing by Crispian Balmer and Kirsten Donovan)