Yellow ribbons for imprisoned politicians cause controversy in Catalonia
Comments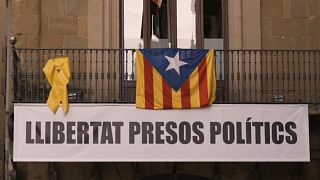 In the Spanish region of Catalonia, yellow ribbons illustrate the call for the release of imprisoned independentist politicians
But they've prompted a debate on the use of symbols in public space … and in institutions.
An announcement over the town hall speaker says "Let's not normalise the national urgency, let's remember that there are still prisoners and exiles. Let us not deviate from the objective: Catalonia's independence".
It's a message from the Vic Town Council and some people approve.
"The institutions belong to the people," says one resident. "Those in the Town Hall are there because we voted for them, they're doing what we wanted".
But one of the 21 town councillors is against the initiative.
"We think it's wrong," says Arnau Marti. "It's propaganda and it defends a political option and breaks the neutrality that an institution should have. A public institution can't be at the service of secessionists or unionists, it must be at the service of everyone".
Some residents take down the ribbons, and the exchange of accusations between those who hang the symbols and those who remove them is creating tensions.
"It's a tactic the Spanish use to discredit our world," says one resident. "Violence, violence... in the end they'll be happy because there'll be violence, but at the moment the only violence is coming from those who remove the ribbons".
With one side saying it's reasonable to remove the symbols and the other saying it's about freedom of expression, a "War of the Yellow Ribbons" is developing.