Grozny: Nine dimensions of the post-war city explored through photographs
Comments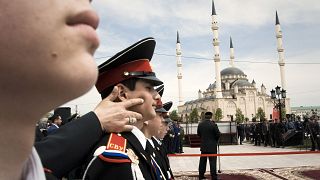 Rencontres d'Arles is one of the biggest photography events in Europe, taking place in Arles in the south of France. Around 125,000 people visit the festival from July through September each year. Some 50 artists exhibit their work in the different venues of the ancient Roman town.
Our editor talked to these renowned photographers, who showed us around their exhibitions, explaining their award-winning projects that make a difference in the world of photography.
Olga Kravets, Maria Morina and Oksana Yushko gave us a peak of the Chechen capital Grozny through their project "Grozny: Nine Cities". Nine years of work present nine dimensions of the post-war city and explain its cultural and political dynamic under the rule of Ramzan Kadyrov. The photographs become outspoken witnesses to inequality, human right violations and abuse of power.
We talked to all three artists about the project and their experiences in Chechnya.