Malmo on the front line of Sweden's election
Comments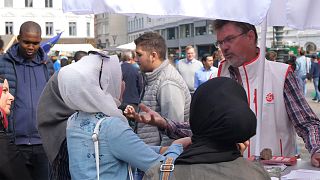 It is the final few days of the Swedish election campaign.
In the city of Malmö in the south of the country the political parties are out in full force, just like during any election.
But this year the city has become a part of a national, and even international, debate.
A recent upsurge in violence has seen people being shot in the open on the streets.
And in the background is the issue of migration, and what some say it the failure of integration as a reason for the violence.
But the local councillor responsible for safety is urging for a sense of perspective.
"We have the lowest crime rate since 1996. The crime rate is going down. But of course, we have some serious issues with gang-related criminality. And we have some very, very disturbing shoot-outs between criminals. But then again, the crime that most of our citizens are concerned about is bicycle theft," says the Social Democrat's Andreas Schönström.
Most of the shootings have taken place in areas where a higher level of the population has a migration background.
So maybe it shouldn't come as a surprise that the right-wing anti-migration Sweden Democrats seem to have more of an interest in discussing the violence.
"I was actually close once. I had just parked my car and left, about 15 seconds later there was a shooting. I could hear how the bullets went through the air and hit a fence behind me. That's how close I've been myself," says the SD's Håkan Ask.
The area of Malmö called Rosengård is often described as the most dangerous place in the city.
It is often even called a no-go zone.
But in the local shopping centre, the leader of the Social Democratic parliamentary group is meeting voters without any obvious signs of security concerns.
"From a police perspective, what people call a no-go-zone are more of go go zone for the Swedish police. We have to be more present in these areas to get a safer development. But actually, we don't have no-go zones in the international sense in Sweden," says Anders Ygeman.
But still, the area is not without problems.
Sigrun Sigurdsson is running projects for young people in the area. And she is asking for more action to include the people from this area in the mainstream Swedish society.
"We do have problems in Malmö. We problems with the inclusion of people in society. We have problems with the inclusion of children in schools. We are really bad at integrating people, and then I mean not just migrants but all people. And we have to improve," says Rosengård social worker Sigrun Sigurdsson.
Back in central Malmö, the campaigning continues.
But while the violence in Malmö has become a part of a national and international debate, most voters don't seem too concerned.
"Of course there is some violence in certain areas. But not all the time. It can also be quiet in those areas," says one woman.
"I feel really safe here in Malmö. I'm really happy here. People are nice. But of course, sometimes things happen. But I think there is less violence in the last little while than before. And either way, I always feel safe," says a Muslim woman wearing a hijab.
"Well, of course, Malmö is neither just a dangerous no go zone or just an integration wonderland. But what is clear is that these shootings that have happened in Malmö have become a part of the national debate. And it is thought that this has helped the Sweden Democrats, the right-wing anti-immigration party. But just how much this issue and other issues like it have helped them, we will find out about that on election day," reports euronews' Jona Källgren.