Explained: Why is blockchain regarded as revolutionary?
Comments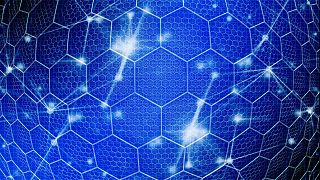 "Blockchain" and "cryptocurrency" have been around for nearly a decade now. What do we know about these technological developments? Would you be able to explain clearly what they are and how they function? What practical application does the blockchain technology offer and how may it change the world?
Euronews asked an expert in this field, Zurich-based lawyer Fabio Alves Moura, to put these complex concepts in simple terms. Some of the answers are also commented by Tomaž Levak, Co-Founder & CEO of the Ljubljana-based OriginTrail, one of the many tech startups exploiting the blockchain know-how.
What is the blockchain technology? What are its biggest benefits?
Fabio Alves Moura: Blockchain technology could be explained in a way that even a 4-year-old child would understand. This explanation, however, would be neither realistic nor useful, as it would reduce the technology to a set of generalisations. So, if we really want to understand blockchain, we should not oversimplify the answer. And yet, it is quite simple.
First, let us take two steps back in order to see the big picture. The first step back is necessary to revise the nature of the internet. Today, the internet is one of the key structural backbones of our society. Almost 100% of all telecommunications flow through the internet, where information and knowledge are registered, shared and developed online.
The whole global financial system works online via the internet. Marketing and consumption, entertainment and political campaigns, social networks — all of these human activities increasingly happen online, over a network known as internet, designed in the 1970s, which still maintains at its core the same structural design, same architecture and data sharing protocols that it had in the beginning almost 50 years ago.
The internet is designed as a decentralised network. This means that the computers, smartphones and other devices are connected to a certain node — a focal point, a server, an Internet Service Provider or a supercomputer. This node, in turn, connects to other nodes in a way that allows all connected devices to communicate via an intermediary: the established connection or several in-between nodes.
This is where blockchain comes in: it changes the way in which the data is stored, distributed and even generated. The blockchain is, at its core, nothing more than a new way to structure data registers. This is done in a way that was first developed in 2009, generally called "distributed network" as opposed to the "decentralized network".
In a traditional internet model, all computers connect to nodes that centralise and redistribute the information, forming a flow. In the blockchain, the structure of data storing and distribution is entirely different. Thanks to several technological developments, such as cryptography and advanced data compression, all the computers in a blockchain network store ALL the information shared in that network. At the same time, all the computers connect to ALL the others. The system works without centralising nodes, as all the connected devices are nodes themselves.
In a very simplified way, this is what the different systems look like: a centralised, a decentralised and a distributed (blockchain type) networks. In the third figure below all points would be connected to all other points, not only to some of them!
This is why blockchain is also described as a Distributed Ledger Technology (DLT). It is the ledger, or registry, that is completely distributed over the network. [There are also other DLT models that are not blockchains and, theoretically, you might have a blockchain that is not a DLT].